Happy Math & Music Monday!
Welcome back! April was a very busy and crazy month. I've missed talking to you each week, and I am so excited to get going again! We have a lot of new faces and a lot of exciting things planned! I hope you'll join us. Plus, it's fun for ALL ages! It's going to be a fun week.
FUN QUOTE: "Having fun with children creates connection. Connection builds relationships. Relationships are what we need to raise our children. So start having more fun, more of the time." - Bridgett Miller
Wow, this is a powerful quote. This is so true; it's those important "connections" and "relationships" with our children that they will remember most. It's that quality time. I know it's hard sometimes… I might be the worst about trying to do too many things at once. But when I actually do stop and make sure to take even 20 minutes to stay completely focused on our girls, we always have the best time, and we've created the best memories!
Ok, let's get going… because we have so many new faces I thought it would be fun to reintroduce myself.
I'm Erin, co-creator of All Aboard, the Music and Math Connection and Ally Dog Depot. Mommy to amazing, wonderful, crazy twin nine-year-old girls, a super cute puppy named Molly and wife to my very best friend, my rock, my husband with a wacky nickname… Pody.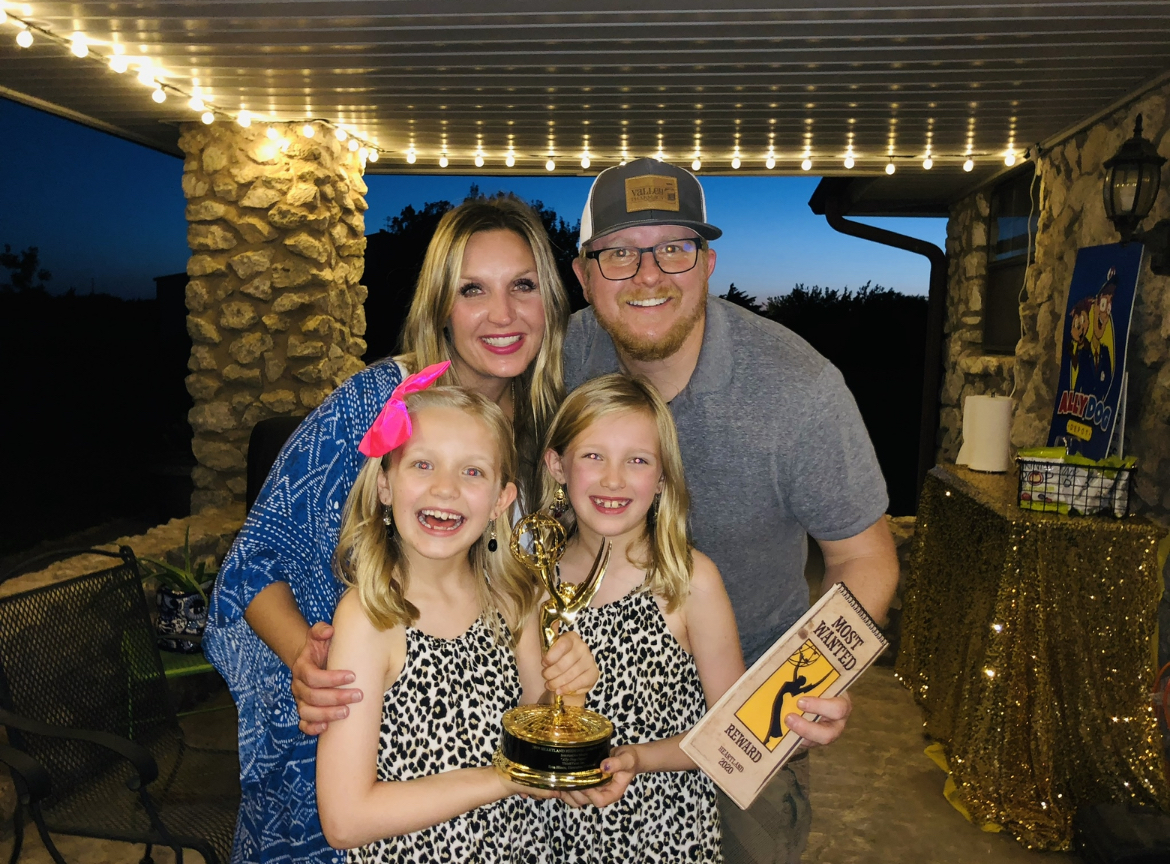 This photo was the night our Math & Music Videos won our SECOND EMMY!
What a special night to celebrate with family.
I am also part of an INCREDIBLE team of people who are truly passionate about using music in a meaningful way to change the world. We believe music is powerful and can shape learning in all kinds of spectacular ways.
All of the ideas in the videos and activities on Ally Dog Depot come from a collection of our experiences as educators. Collectively that is over 100+ years in education. Together we have developed and tested a unique curriculum that has been used in schools over the last 10+ years.
But our dream has always been to share these incredible techniques with EVERY child. This is why we need YOU!
If you haven't already, I encourage you to check out our website and sign up. We're offering a 7 day free trial. Check it out, take a look around. Watch the videos, do the activities with your child. I know you will LOVE them. Thank you for wanting to take that next step with your child to help them develop a love of problem solving and learning. I promise you won't regret it!
Don't worry…we do have some additional SUPER Fun things planned this week! Be sure to follow us this week on our Facebook Page and Instagram! You won't want to miss it. We have a fun NEW Joke on Tuesday for "Tell A Joke Tuesday!" A super fun "Projects with Pais on Wednesday" and a really yummy one on Saturday for "Cooking with K!" PLUS lots more in between!
Thanks for stopping by!
We hope you all have a wonderful Math and Music Monday or even a wonderful Math and Music WEEK! As always, we would love to hear from you on how things are going! Be sure to follow us on Instagram @mathandmusicmommy and Facebook: Ally Dog Depot. Oh, and if you like what you see, please share with a friend!